There's no shortage of games where you have to cleanse a town of ghosts. But do those games let you cleanse the ghosts themselves? Spirittea does. Canadian solo developer Cheesemaster brings us this Japanese- and Korean-inspired afterlife sim. It's a brew of Spirited Away, Stardew Valley, and other things that mostly goes down well, albeit with a few harder-to-swallow bits.
You create a character with limited customisation, and you're told you're a writer moving to a small town to focus on your book. As you settle in, you realise there are some odd occurrences that the locals can't understand or explain. You're given tea leaves which, when brewed in the teapot left by the previous resident, grant you 'spirit vision', the ability to see spirits invisible to the naked eye. Guided by Wonyan – a cat-like spirit guide who's, well, catty – you'll uncover some ghostly goings-on, and find the lost spirits causing them.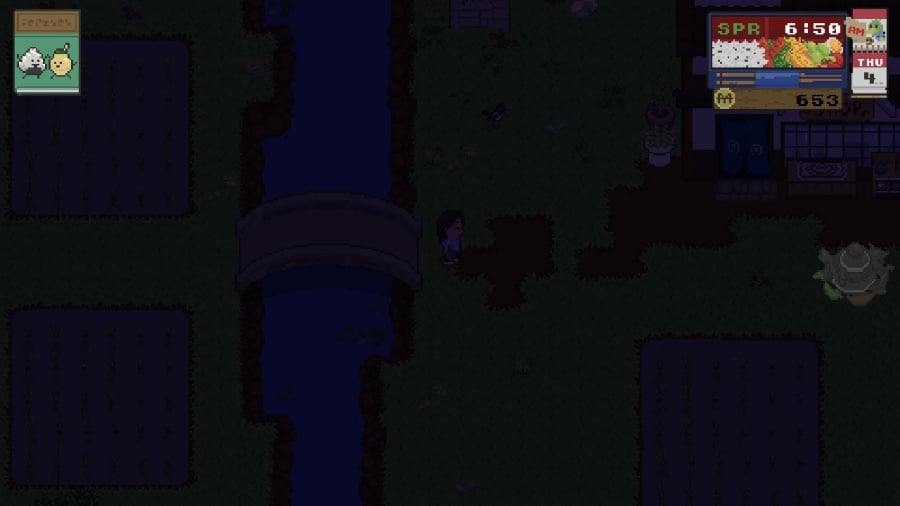 Spirittea is more spirit than tea. Sure, tea kicks it all off, but you don't have to drink the caffeinated beverage. Your spirit vision gets a set amount of daily time, and drinking tea tops it up.
Wonyan gets you to chase two troublemaking spirits, who, once you catch them, relinquish a key to a bathhouse for spirits. This will sound familiar to anyone who remembers the names Chihiro and Kohaku. The bathhouse is where you'll spend most of your time and earn income. Here Spirittea throws you in the deep end, with a complex and wordy tutorial on running the bathhouse that you'll soon forget. A diagram houses the information but it's more confusing than convenient.
We floundered at first, but eventually realised we could forgo some elements and still maintain a flow in the bathhouse. Then we relaxed into the repetitive and meditative gameplay loop: making more money, opening new rooms and baths, cleaning the run-down spaces. Every bathhouse activity also contributes to increasing your Spirituality, an invisible stat that enables you to find more spirits.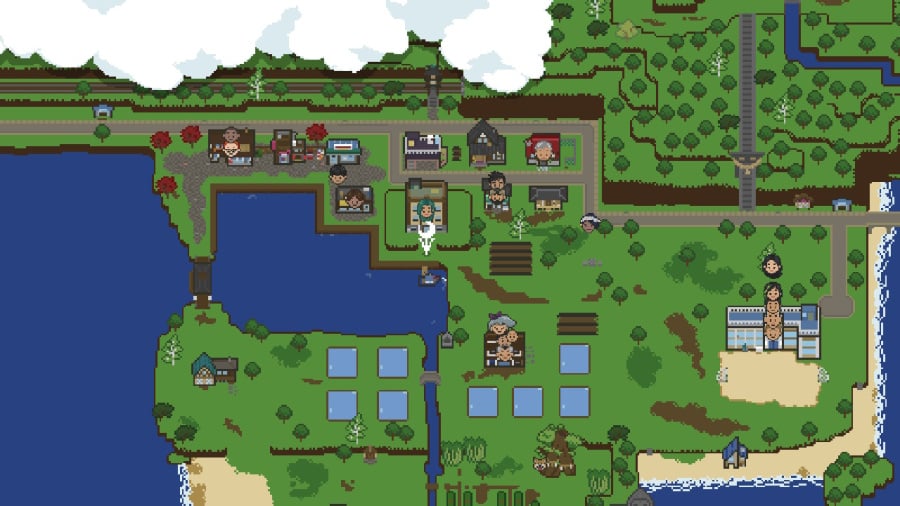 Outside, there's something strange in your neighbourhood. The townsfolk are experiencing vandalism, theft, and catfishing, and they don't know who's behind it (spoilers: it's the ghosts). You can find requests on the bulletin board with clues to help track down the tricksters. Some are more cryptic than others – one in particular took us an embarrassingly long time. A few spirits even break the fourth wall. We won't spoil these, but we will say we thought the game was bugged before the cheeky reveal.
When you catch the spirit – wherever it is – Wonyan chastises it for causing trouble. Then there's a trippy transition where the spirit remembers its name and shows its former self, be it a raven carrying a house on its back, a Yubaba-like woman with antlers, a tree, or other creative creatures. With such an assortment of spirits, it's a shame they don't speak again after you save them. They'll come to the bathhouse as customers, but they don't have Spiritfarer or Cozy Grove-esque backstories.
The humans, however, offer some nice companionship. Other life sims' love languages might be gift-giving and acts of service, but Spirittea's is quality time (we say 'love language' but there's no marriage). Yes, oddly, completing villagers' quests doesn't improve your friendship. But many other things do: fishing, karaoke, hot springs, and more.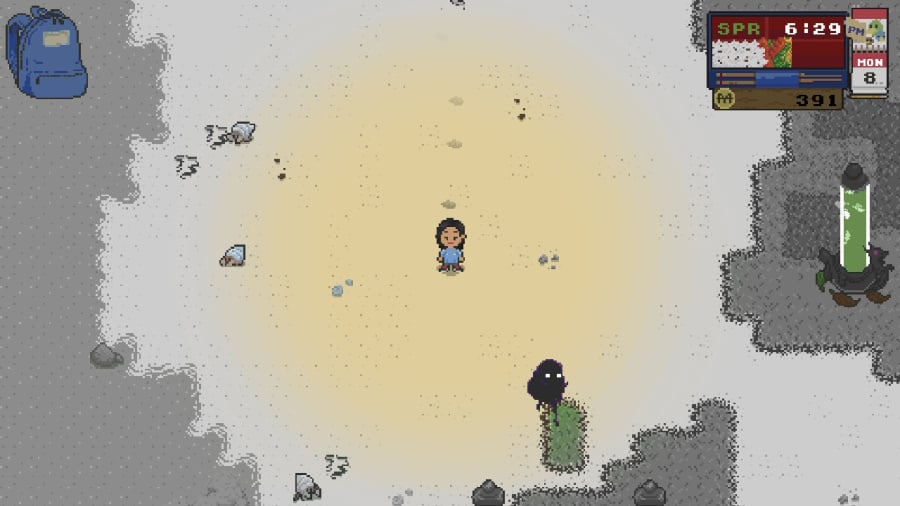 The residents we've bonded with have had heart-warming stories to tell. One elderly woman ruminates on how her divorce affected her daughter. A man reveals how his unconventional upbringing influenced his nomadic lifestyle. Once the friendship bar is full you can recruit that person in the bathhouse. It's a bit of a grind if that's the sole purpose of friendship. Plus, we can't help but feel bad making someone wash towels after they've poured their heart out to us. Dogs and cats also prowl around town, and it's easy to bump up your friendship by giving them pats! They can't work in the bathhouse, though, possibly because they can't chop wood with their paws.
You have waves of activities to boost your friendship, some more enjoyable than others. Many come with their own minigame, which is often unnecessarily convoluted. They pull your attention in different directions and mess with your coordination, usually while a timer ticks away and speeds up to punish mistakes. We also found Spirittea's UI pretty fiddly. Opening menus, equipping tools, and even going to sleep have one button press too many. Shop opening hours are nowhere to be found. The map is disorienting; the buildings and trees bob up and down to a track that clashes with the overworld music.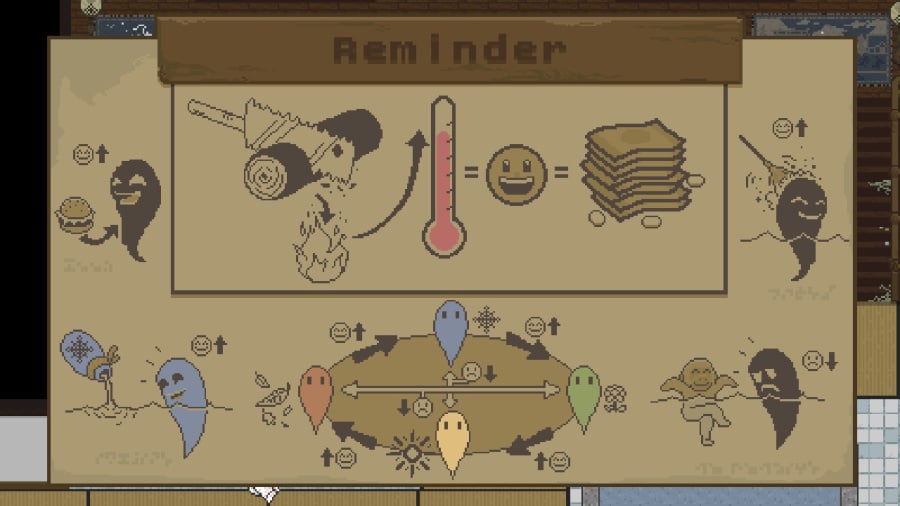 The game largely runs smoothly. We experienced a few glitches where the clock stopped running or our character got stuck, but restarting always fixed the problem. We also found things got quite stuttery around the one-year mark.
Visually, Spirittea's pixel art draws obvious comparisons to Stardew Valley or Eastward, but the difference is the brown colour palette, which not only fits the dilapidated town feel, but is also the colour of tea. The colours are too dark at night time and early morning — in handheld mode, the screen may as well be off. Handheld mode also fares poorly with the text, which is teensy in some menus.
Outside of the map, the music is calming and unobtrusive, if a little on the soft side. Sometimes it went eerily quiet, but with the occult occurrences in this game, we wouldn't be surprised if that was the point.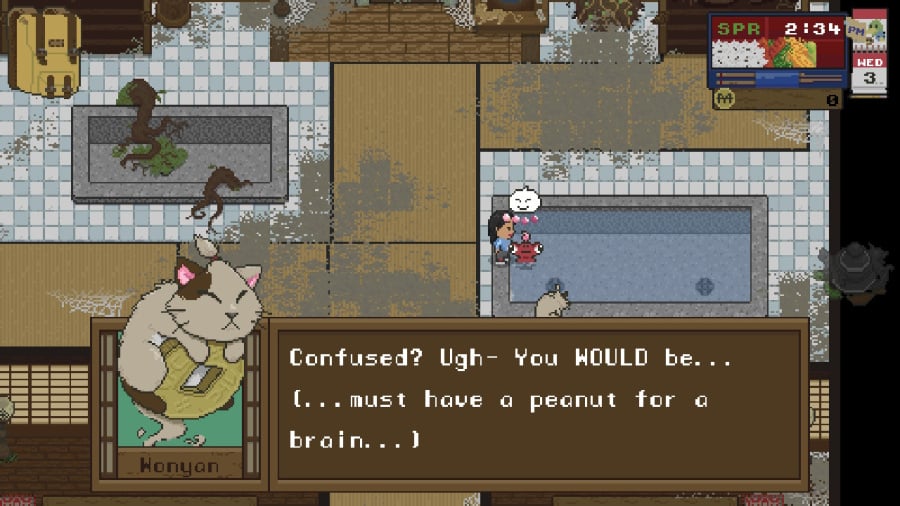 Some irritations, then, which prevent Spirittea from ascending to a plane of true greatness, though nothing that had us stewing for too long. Ultimately, its relaxing blend of domesticity and otherworldliness calmed and charmed us.
Conclusion
Spirittea serves up a creative and addictive (after)life-sim loop of attending to bathhouse spirits and helping townsfolk. The tools and menus don't offer the most fluid experience, and the minigames are often overwhelmingly complicated, but there's enough to do here that means you can dip in and out of things when you don't like them. Anything you do like, you can soak in for hours.