[Editor's note: The following contains some spoilers for Shrinking.]The Apple TV+ series Shrinking is a heartfelt exploration of grief, and the tears, laughs and self-exploration that can follow. After losing his wife, grieving therapist and widowed dad Jimmy (Jason Segel) starts to break the rules by telling his clients what he really thinks and walks an ethical edge while pushing them to make the changes that could really help them. At the same time, Jimmy's co-workers, friends, neighbors and clients help him rediscover what matters, after experiencing life-changing loss.
During this 1-on-1 interview with Collider, co-creator/writer/executive producer Bill Lawrence (Ted Lasso, Scrubs) talked about how this series evolved with co-creator Brett Goldstein, telling a story of grief through comedy, why Segel was the perfect person to center this around, getting Harrison Ford (who plays Jimmy's mentor, Dr. Paul) on board, how Ford came to sing Sugar Ray in an episode, why he loves working with wife Christa Miller (who plays Jimmy's sometimes overbearing but always well-meaning neighbor Liz), that final gasp-worthy moment at the end of the season, and seeing this as a three-season story arc.
Collider: I don't want to turn this interview into my own therapy session, but I will say that this series definitely helped me process a lot of my own stuff while laughing and crying, and sometimes crying from laughing so hard. So, thank you for all of that.
BILL LAWRENCE: Oh, that's sweet. I'm not good at accepting compliments. That's way too nice. I'm gonna tell everybody on the writing staff that you said that. That's really cool.
I had no idea what to expect what I started watching this show, and I just absolutely fell in love with it.
LAWRENCE: That's very nice. I've had plenty of stinkers in my wake. I'm just lucky that the really awful ones were so awful that they didn't get on television. The other ones, I just have to hide from, for the rest of my life and career. But thanks, I really appreciate it.
From my understanding, you were working on figuring out a comedy series about someone dealing with grief, at the same time that Brett Goldstein was, and you guys decided to join forces and do this together. But how did each of you find out that you were exploring the same idea? Do you guys have meetings where you pitch each other what you're working on? How does that even come up in conversation?
LAWRENCE: I hate writing. I love having written something, but anybody who says they enjoy writing, I think they're a sociopath, so I'm always looking for someone to split the work. Brett and I were sequestered in London, which is a rough city to be in for months at a time because it's very rainy. We were writer buddies, long before Ted Lasso. He was a writer on Ted Lasso, before being an actor on the show. And so, we literally met in a pub and I was like, "Let's write something together." We were talking about different ideas and I said, "I'm working on this thing about a neighbor who went through this accident. He was a doctor, not a psychiatrist. It was a bummer because he was so sweet, and I made him a therapist in my pitch. And then, Brett was also working on a much darker show about therapists with murder in it. We liked the idea of doing a classic sitcom about grief.
Grief is a difficult subject for anyone because it's a hard thing to process, no matter who you are. Doing so through comedy definitely makes it more palatable for people. But how challenging is it to keep the right balance throughout, so that these characters work through their issues, but that the audience keeps laughing with them?
LAWRENCE: That's the tonal tightrope. We've been very clear about what we wanted to do. Everybody, right now, is a few degrees removed from some kind of grief. Our fathers are both struggling, and we've had our share of other family stuff, as everybody has. It doesn't make us special. Where we connected was both of our families laughed our way through it. And Brett and I both like a traditional sitcom, with jokes, trying to make people laugh, and trying to make people enjoy the half-hour. What we pleasantly found is people that get that we're doing a classic sitcom about dealing with grief, which is maybe a topic that classic sitcoms haven't done, seem to really like the show, and we're grateful for it. It's a tightrope when you screw up and it's really stupid, but when it works, it's great because that's how we get through it in real life.
At what point in the process of you guys figuring this show out, did you bring in Jason Segel? He seems absolutely perfect for this, but how did you know he was perfect for this?
LAWRENCE: We started with a list of actors that would still be inherently empathetic and vulnerable, even though they started from an awful place. If you get the other wrong actor in here, the way he was treating his daughter and the type of father he was being, right from the start, you would be like, "I hate this guy." Jason has an inherent likability. He gets to push that envelope further than most people and still get away with it. And when we approached him, one of the cool things about not only Ted Lasso, but even Scrubs, when you're so close with the actors and actresses who play the parts that, they can not only try lines in front of you to see if they work, but can help create their own character. The other appeal is that Jason is an amazing writer, and we knew that character would be even better, if he was part of the creative team and write on the show. The amount of times that he has written his own dialogue, and we get to know in the writers' room that it's gonna work because he's already done it, it's like an answer key on a test where you're cheating.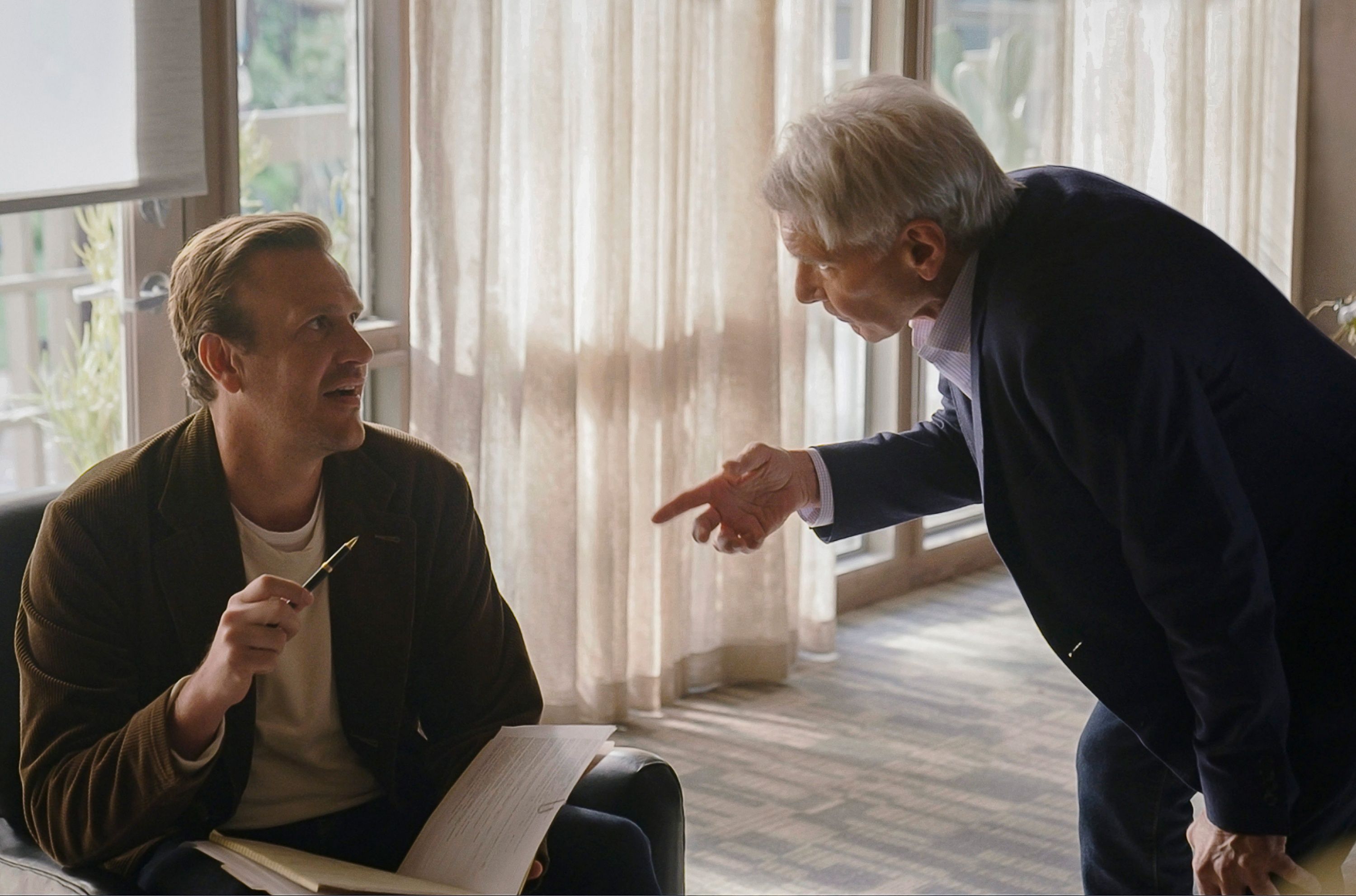 Once you had Harrison Ford signed onto this, what was he like to work with? Does he have a lot of ideas about his character? Is he someone who puts himself in the hands of the creative vision? What was the experience like, working with him and specifically doing a comedy with him?
LAWRENCE: I've always known Harrison was funny because I think he's funny in Working Girl and Indy. They're inherently comedies. I don't wanna sound too corny here, but it's true, he's so inspiring. When you ask him why he was doing this, he's nice and he said that he liked the writing, but he's also challenging himself to do stuff he hasn't. That's why he's doing a streaming TV show and there are rumors that he's doing Marvel movies. The guy is 80 years old, and he's still out there throwing himself into these things. So, the biggest messages is that he's not mailing it in. He's very collaborative and very trusting, but he went through everything. He tries new jokes. He asks us to push him. I never expected to have a career highlight, starting my career out with Michael J. Fox, this icon who turned out to be like you'd want him to be, and then, at this point in my career, to have the same experience on the other end (with Harrison Ford) has been pretty cool.
Not only did you get Harrison Ford to do this show, but he has one of the most memorable scenes in the whole season, with him singing. Did it take convincing to get him to sing a Sugar Ray song? Had he ever even heard the song before?
LAWRENCE: He's such a gamer. He didn't know the song. That storyline came from the fact that I always pick actors and actresses' brains. Jessica Williams has a weird love of one hit wonders from that era, so she laid out all these songs. We started from a place of, "You're gonna be singing in episode two, so pick songs that you know every word of," and she did. And then, we said, "Harrison, she picked one for this, and here it is." And Harrison said, "Yeah, man, I don't know if I'm gonna learn it, or if I'm just gonna pop along and dance along." We were fine, either way. But on his own, he realized, "That's a song I really like." It probably got stuck in his head, and so he surprised us with all that. People are noticing that about the show. Harrison could have shown up and said, "I'm Harrison Ford," metaphorically, but he didn't. He showed up and was like, "I'm part of this ensemble." That's why even the kids are able to be so good with him because, to them, he's just another actor. He won't let them canonize him.
These are not just friendships in this show. These are not just work relationships. This is a family, regardless of their flaws and mistakes. And none of that works, if the pieces of the cast don't fit together and find their rhythm. What was it like to see how all of that fit together and to watch it work, and to see all of these actors and how great their interactions were, throughout the season?
LAWRENCE: I can't tell you that I knew it was gonna work. That's not true. You know when it's not gonna work because people have no chemistry. For us, right from the start, we did a table read of this show, which was Harrison Ford's first table read, ever, and everybody just clicked and knew each other's rhythms. It was like, "Oh, okay, we've got a chance for this to work." The chemistry between the cast was really good, and it was just a good tone. James Ponsoldt, the director, set a good tone. The writers were always around. We got lucky in the way that sometimes TV shows get lucky.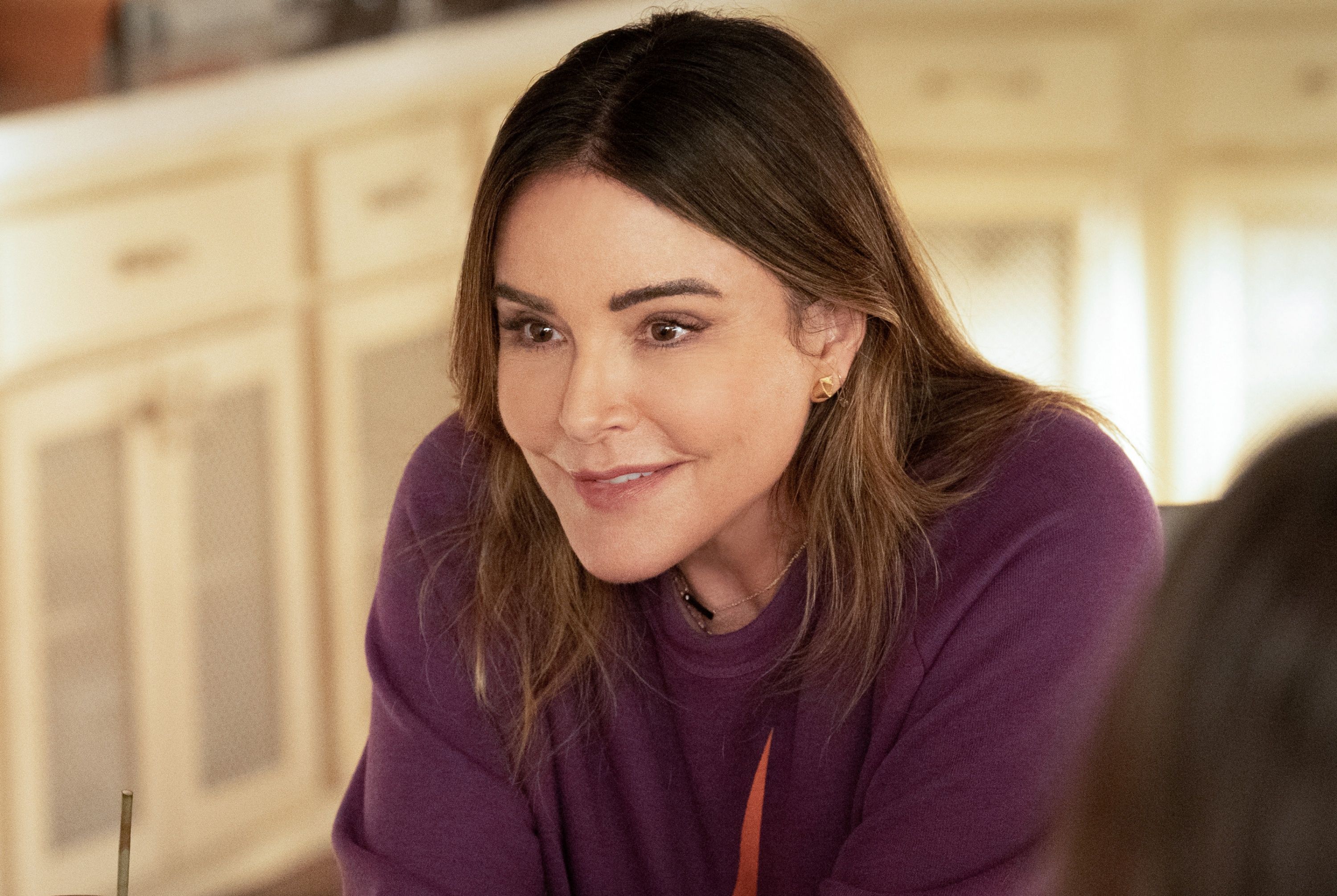 When your wife, Christa Miller, is in one of your projects, how does that come about? Do you write a role specifically for her, with her in mind? Does she tell you what kind of character she'd like to play? How do you figure that out?
LAWRENCE: My favorite thing on earth is working for my wife and working with my wife. I said working for intentionally because I think she's monster talented and it makes me happy, on a day-to-day basis. We did it for a long time, and then, it's almost a cliché, but she literally stepped out of it. She was a star of a TV show for 22 straight years, and then she raised our kids and stepped out of it, but she worked occasionally. So, she wanted to come back to it again and the idea of working with her was such a gift, for me personally. The cool part was that I know how to write my wife as Jordan from Scrubs because I've done it before. I thought that's what I was doing again, but she told me, on her own, "I'm gonna turn this into something different." It was really cool. My joke to her is, "You seem like an almost sensitive and likable person in this one." She was playing something I haven't seen her do before, so I had a good time with it.
I thought the final moment of the season was an interesting one to end on. How did you decide where to end the season? What made that the right place to leave audiences?
LAWRENCE: We knew what the three years are about. We knew the first year was about grief because we announced it. Harrison Ford's character says, "Grief is a sneaky little fucker." We knew what the second year was about, and Harrison will announce it in the first episode of the second year. We knew, going in, that the ending of the first year would lead us into what we wanted to write about in the second season. I don't wanna do any spoilers, but I don't think it's what people will imagine it's going to be. They're not gonna be in a courtroom.
That moment made me gasp, it was so unexpected.
LAWRENCE: When you write a show like this, even though it's a sitcom, we follow people and we knew what we were doing. A thing I can say without spoilers is that, with the character Jimmy, no matter what his journey was, we couldn't go on this journey and have only positive consequences from how he has behaved. If we did that, we would be making a big mistake and we would get tagged for it.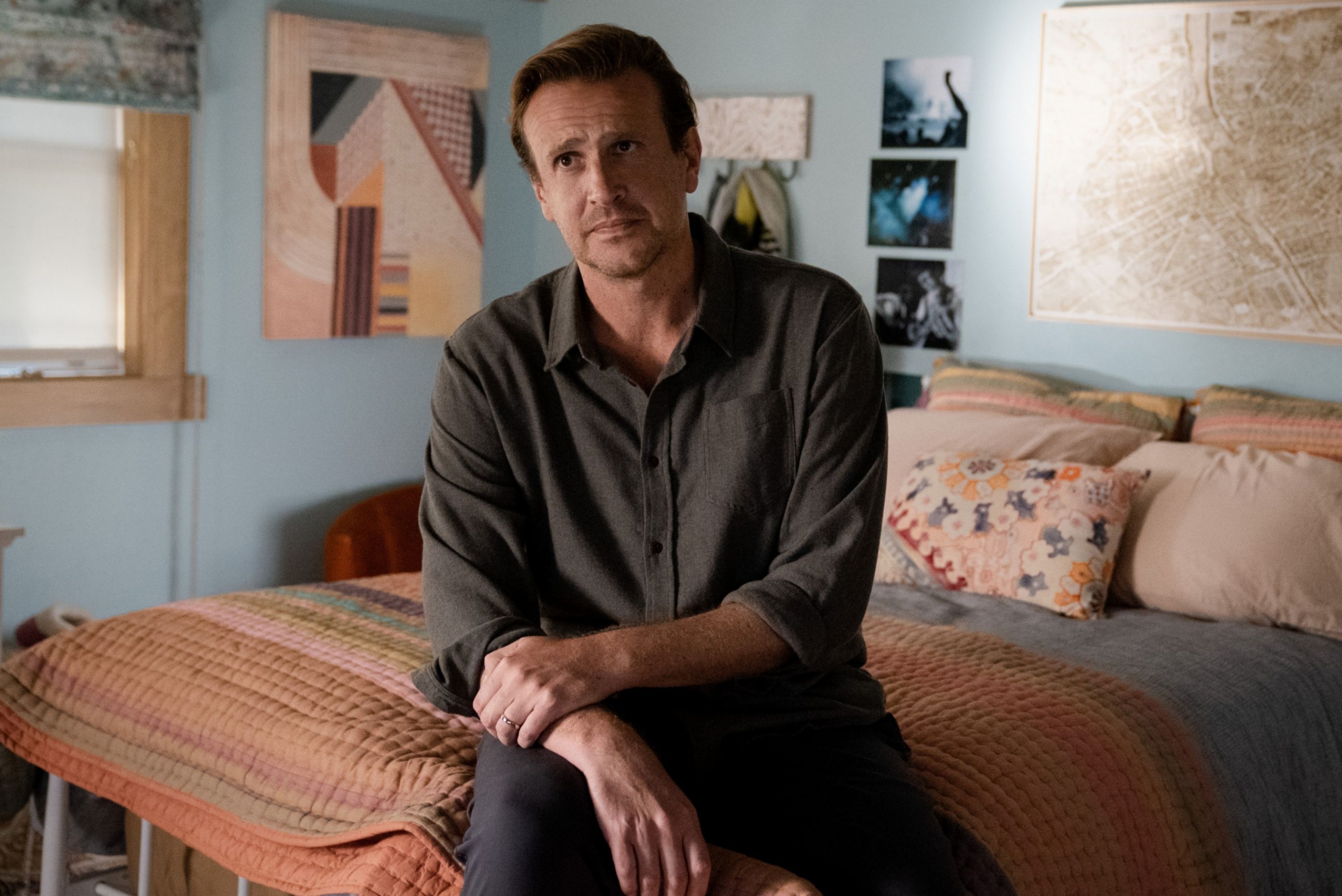 Did you always see three seasons of this, from the beginning?
LAWRENCE: It's a framework. It doesn't mean you can't do more and figure out something else, but we're telling a three-season story. One of the reasons that's the model is because, when you go to someone like Jason Segel, who was on a sitcom for nine years, he doesn't wanna sign away his life until he's in his fifties. It's a big deal. It was the same thing with Harrison. We had to say, "This isn't something we're doing forever, dude. We know what the beginning, middle, and end is." And Harrison wanted to know the beginning, middle, and end of this particular story. That's the longest beginning, middle, and end that I can think of, before we even start.
Have you and Jason Sudeikis ever had conversations about doing any spinoffs for Ted Lasso?
LAWRENCE: I'm a TV producer at heart, and I love that world and I love those characters. I'm somebody that would just sit around thinking up different ways to do that, forever and ever, but I can't tell you what's in his brain. If it were me, I would be making the Dani Rojas show last week. The cool thing is that I actually love not having the burden of it because there are so many things to consider. It's all in our fearless leader Jason's corner, on that.
Shrinking is available to stream at Apple TV+.