"So is there a plan?"
More from Spin:
Hours After Winning A Pulitzer Prize, Rhiannon Giddens Reveals New LP
Watch Paul Simon Make Newport Folk Festival Debut During Nathaniel Rateliff's Set
Rhiannon Giddens, Amanda Palmer Cover Portishead's 'It's A Fire'
Rhiannon Giddens has taken a chair, stage right in the theater at the Soraya Center for the Performing Arts at Cal State University Northridge in Los Angeles' San Fernando Valley suburb. She's asking her question to the dozen (or so) other musicians arranged with their instruments in an arc across the stage. This is the acclaimed Silkroad Ensemble, a collective of visionary international talent, sound-checking and rehearsing for the evening's concert, just the fourth on their tour of their American Railroad project.
After a little group discussion, she picks up her fiddle, tunes it and plays a few licks, then the same with her banjo, a custom-built fretless reproduction of an 1858 model, putting its sound square in the era of the building of the Transcontinental Railroad, around which the Ensemble's exploration of the impact, and great suffering, of various cultures and peoples, is built.
There's some banter and joking around, and then at the suggestion of one of the others on stage, she leads several singing a bit of "Swannanoa Tunnel," its steady, heavy rhythms timed to the hammer-swing of rock breaking, telling of digging through a mountain not too far from Giddens' native Greensboro, North Carolina.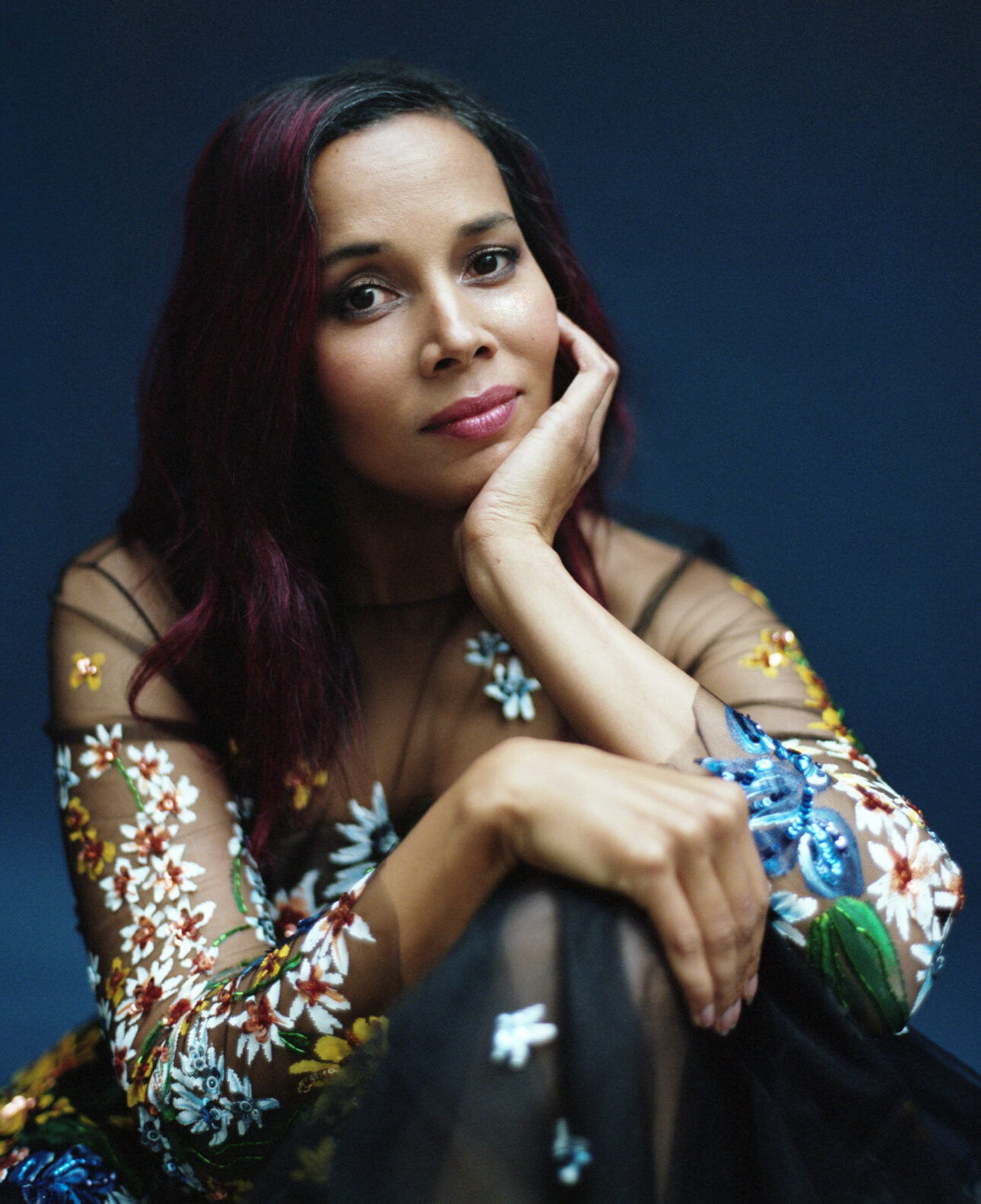 Technically, Giddens is the boss. She's the Silkroad artistic director, a job handed directly to her by Yo-Yo Ma, who founded the organization in 1998 and headed it for its entire history before stepping down a few years ago. This current program was her idea. Still, she is the one taking suggestions, instructions. She'd have it no other way.
"I'm much happier when I can do my thing in a group," she says in her dressing room before the rehearsal. She's casual in a baggy sweatshirt, fresh off the drive up from San Diego, where Silkroad performed the night before. But she projects the same assured confidence seen by those who have watched her perform for nearly 20 years now.
"I thrive with the ping-ponging of ideas back and forth. I mean, to watch a Silkroad rehearsal, this particular group of people, it's just really beautiful. One person will say, 'Well, what about this?' And then someone will go, 'I don't know about that.' And everybody's not attached to their idea. They're attached to the idea that they want the best thing for the piece."
She's clearly boosted by the energy of this venture. But while she has Silkroad exploring the American Railroad, she finds herself at a crossroads. Even by the standards of her jam-packed career, which started with her co-founding the Carolina Chocolate Drops to revitalize Black string band traditions in 2005, the MacArthur "Genius" Award recipient has had a very busy couple of months.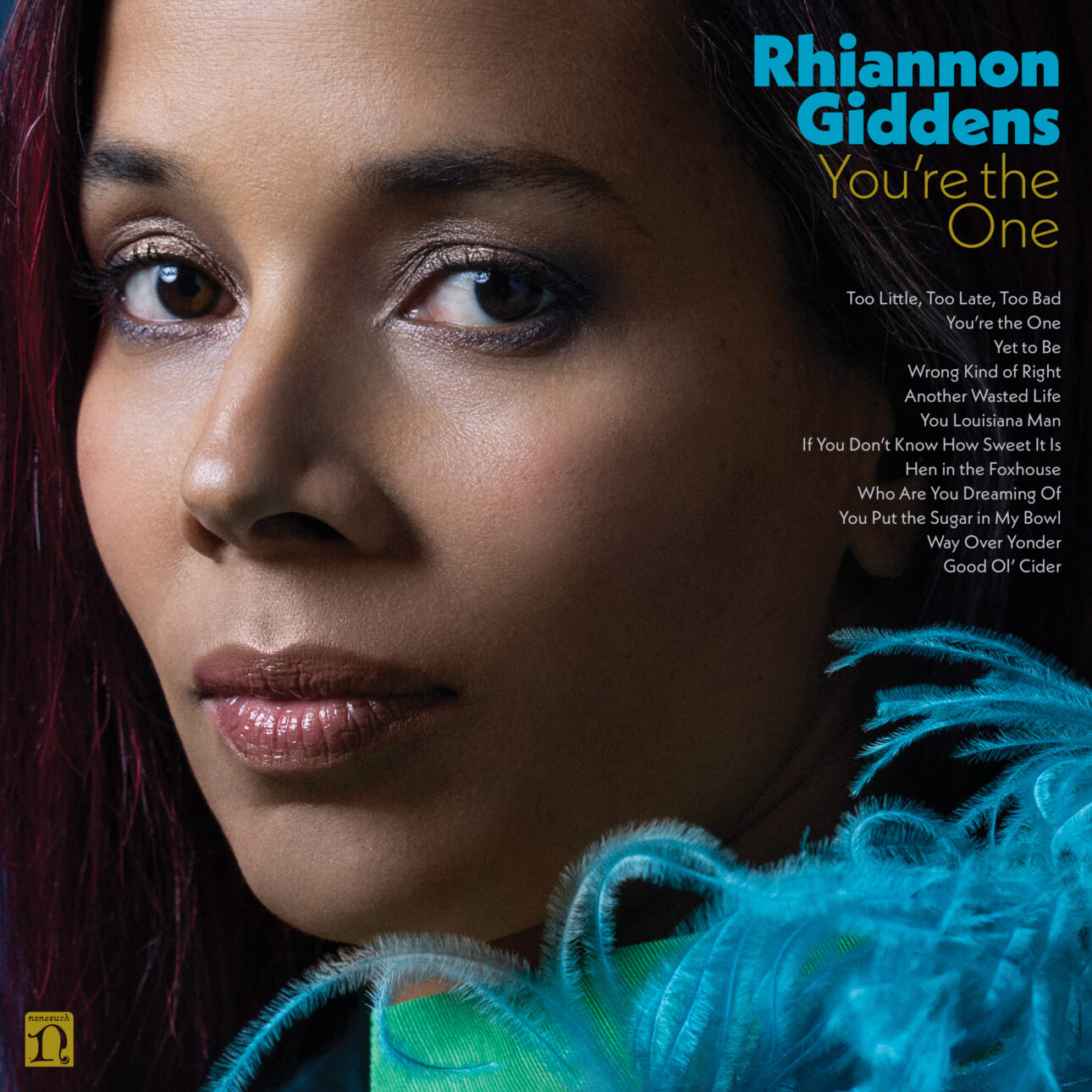 There was the release of her solo album, You're the One (which just got two Grammy Award nominations in the Americana category, to go with two Grammy wins she's had already), planning and shooting episodes for season two of her PBS series, My Music with Rhiannon Giddens (the night after the Soraya performance, she and several Silkroad colleagues were doing a talk/music event at L.A.'s Union Station train depot to be included in an episode) and, of course, all the preparation and facilitation for the launch of this new tour. Oh, and last month she headed to New York to pick up her Pulitzer Prize for her opera, Omar, derived from the autobiography of Omar ibn Sayyid, brought from West Africa to North Carolina in the early 19th century, who became a Muslim scholar and author even while remaining a slave.
It's all wonderful and she takes none of it for granted. But it's come clearer and clearer to her that she needs to address her difficulty with saying "no" to creative projects.
That subject draws a sharp, pointed laugh. "I'm starting to," she says. "I have started saying, 'No.' Look, I've been so extraordinarily lucky. I mean, obviously I've worked hard and I've stayed focused on what's important to me. I made a decision pretty early on after meeting Joe Thompson and doing the Chocolate Drops. The fulfillment of having a mission really keeps you insulated from some of the more toxic elements of the music industry. And when the Chocolate Drops broke up and I went solo, I was like, 'I want to stay focused on what I can do as a human being, not on how famous I can get.'"
Turns out there are other tolls which she had not anticipated.
"I'm on Prednisone," she says. "One of the results of not saying 'no' to anything is I'm having a lot of vocal problems over the last year. So that's been really challenging, because my voice has been my rock. Like, my whole life I never had any problems. I warmed up properly and I took care of my voice. I never had to cancel anything, ever. And this year I had to cancel two shows and it was heartbreaking. I'm trying to make it through this tour. And then I'm going on vocal rest. I'm taking a couple of months off. I would never take a month off. I gave birth to my child and within a month I was at a festival, which is crazy. So I'm really trying to say 'no' and take some real time off. It's hard, though. I mean, it's really hard to stop."
Some of the pile-up can be attributed to the pandemic, which stalled her Silkroad debut, the new phase emerging finally in 2022 with a tour named, fittingly, Phoenix Rising. But this is the first venture fully under her leadership. The original Silkroad concept featured musicians and traditions rooted in Asia, more or less along the ancient trade routes linking East to West, creating new works that thrillingly crossed borders, not just geographic, but obliterating lines between folk and classical approaches. The new program, with Giddens at the helm, translates the approach to North America, keying now on the building of the route that connected East with West here and the incalculable human costs involved, expressed in newly commissioned compositions, including several by Silkroad members.
A stellar lineup was put together to achieve that, centered on artists with heritage from the cultures and lands at the core of that history. There's China, where much of the labor came from, in Silkroad mainstay Wu Man, virtuoso on the lute-like pipa virtuoso, and suona player/percussionist Yazhi Guo. There's Japan, which supplied workers after draconian Chinese exclusions were enacted, in percussionist/composer Haruka Fujii, flute player and percussionist Kaoru Watanabe and Japanese-American violinist Michi Wiancko. There's African-American heritage in Giddens herself and violinist Mazz Swift, and Congolese guitarist Niwel Tsumbu. And embodying the American Indigenous communities sliced through and displaced by the railway is singer-guitarist Pura Fé of the Tuscarora Indian Nation. They are complemented by Indian tabla player Sandeep Das (also a long-time Silkroad member), Sicilian accordionist and percussionist Francesco Turrisi (who is also Giddens' life partner), cellist Karen Ouzounian and double bassist Shawn Conley.
"You start looking at the history of the Chinese workers and the massive infrastructure," she says. "Like in Chinatowns all over the place, how economically they were pushed into these corners and they made them successful because that's what people do. It's built into the music. It's seeing people playing things like the pipa and the suona [a Japanese drum] next to the accordion and next to the fiddle and the Congolese guitar and next to the [Japanese] taiko drums, all these aspects in the banjo, all of the aspects of all of these people. And the idea was not just, 'Let's write some music.' It's: 'Let's do deep-dives in the history of America.'"
For this they went into the field, with group educational retreats, including to Standing Rock, North Dakota, the site a few years ago of huge protests against an oil pipeline, where residents compared the project splitting their community was much the same as what the train tracks did in the past.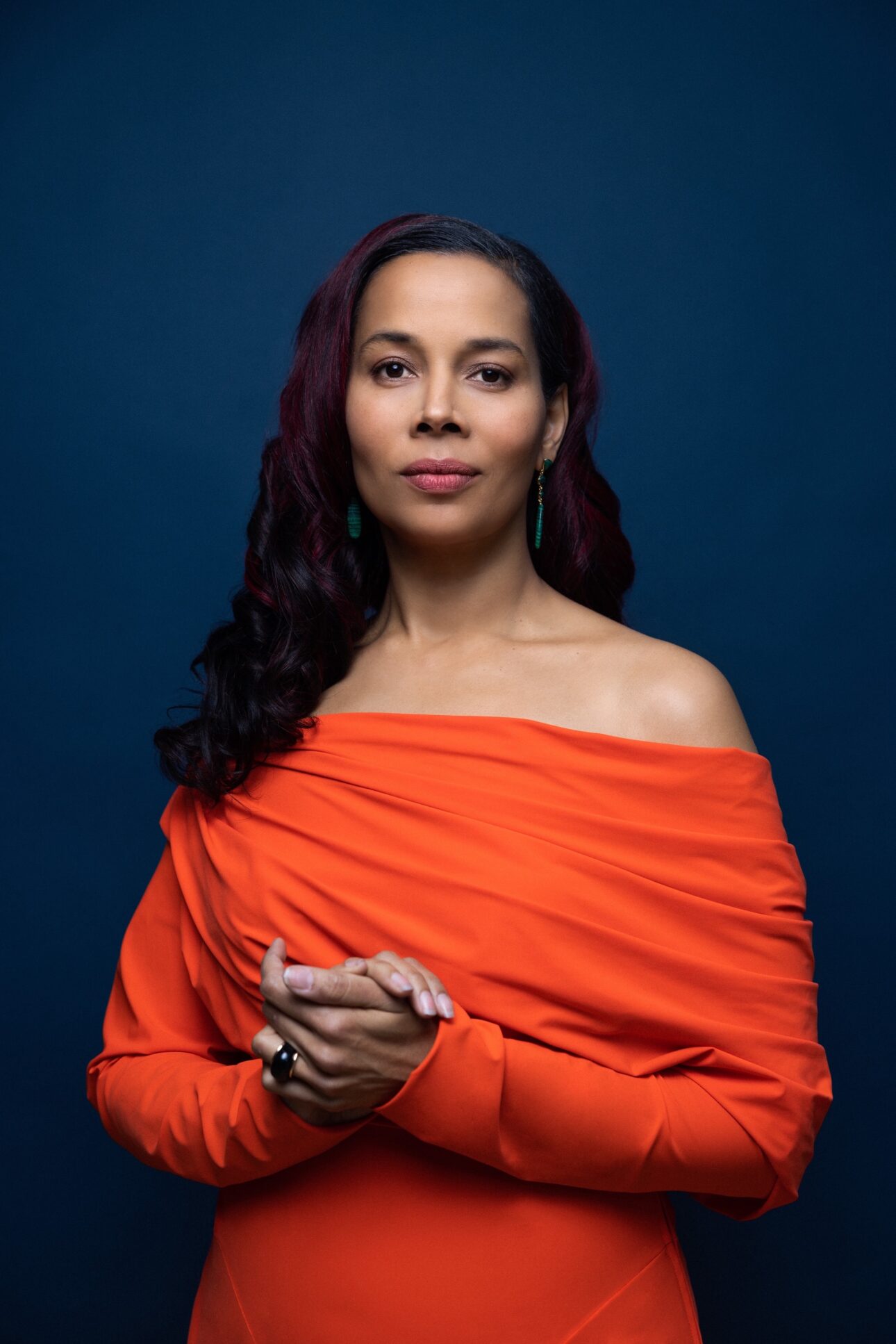 Giddens' openness to ideas and input to opportunities has served her well through her career, from when, in 2005, after studying opera singing at Oberlin and taking a series of day jobs, she encountered the near-lost Black string band music at a festival called Black Banjo Then and Now. In particular, she met Joe Thompson, a fiddler then in his 80s. With two other young musicians she met there, she co-founded the Carolina Chocolate Drops to help honor and revitalize those traditions. That set her on a mission to give voice to those whose own voices were buried both in the past and the present. It drives everything she's done, in the Chocolate Drops, in her solo albums, duo projects with Turrisi, in the New Basement Tapes (alongside Elvis Costello, Marcus Mumford and others writing new songs from previously unused Bob Dylan lyrics), in the group Our Native Daughters with Alison Russell, Amythyst Kiah, and Chocolate Drops alum Leyla McCalla and even acting, as she was a regular on the TV series Nashville and had been tabbed to succeed Audra MacDonald as star of the Broadway musical Shuffle Off, though the production closed before she was to start.
She remains voracious for new creative experiences and maintains her fierce dedication to using her art to affect meaningful societal change. But now she's ready for some changes for herself.
Foremost in her thoughts regarding shifting gears, though, are her two children — ages 10 and 14. Currently she spends about half her time at home near Limerick, Ireland, where they and their father, musician Michael Laffan, live as well. But it's not enough.
"They're old enough to understand why I'm gone," she says. "But they're still not so old that they don't need me around. And in some ways they need me more now. My daughter's in her teenage years and she's doing amazing. But that's tough. And when I get into that house, all I can think of is, 'Oh, that's a mess.' And I gotta cook breakfast, lunch, and dinner. Some of that I love, some of it I don't. But it keeps me grounded. I'm mopping my floors, cleaning the baseboards with a toothbrush."
Her creative life won't be put aside, though. She serves as artist in residence at the University of Limerick. There's also that book she has to start writing. And she's hardly done making albums.
"I've already got the next one planned, next three planned," she says, not sounding like someone who really intends to slow down too much. "The next one, I'm super excited about it. We're going to record it next year and it'll be something different yet again. I just need to be the best artist I can be, because these days need all of us to be in a position to give as much as we can. It's really do or die."
Sounds like a plan.
To see our running list of the top 100 greatest rock stars of all time, click here.
Source link