Gerry Duggan popped by tomight's X-Men 60th Anniversary Live Event to announce the return of Uncanny Avengers to Marvel Comics.
---
Gerry Duggan popped by tonight's X-Men 60th Anniversary Live Event to announce that the former Avengers/X-Men team up book from the last decade, Uncanny Avengers, would return for Free Comic Book Day, athree-part free comic out on the 6th of May, and would also return with a new ongoing series in August. Following on from whatever happens in Fall Of X. And with Captain America, Rogue, Quickilver, Psylocke, Penance and Deadpool. But not Cyclops.
Because it seems that someone else besides Cyclops will be getting the Captain Krakoa battle suit this time around. Well, at least they have the chin for it.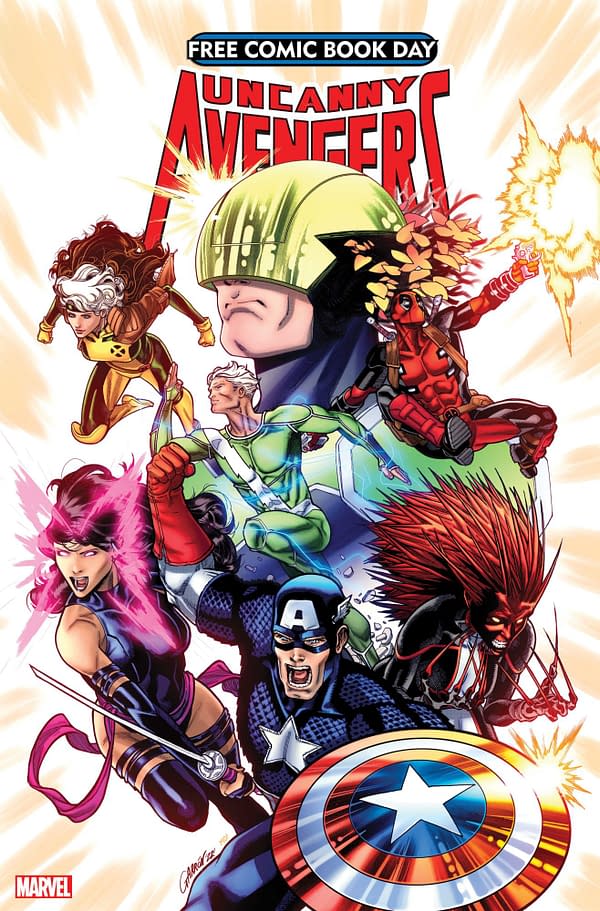 The first third of the book will be a flash-forward to the Hellfire Gala in July, the second will be Uncanny Avengers by Gerry Duggan and Joshua Cassara, and the third part is… still a mystery. Well, it's the Jonathan Hickman/Valerio Schiti mystery project, we all know that… just not what it is.
"THE FALL OF X will be a major turning point for the X-Men franchise that will see huge changes in current ongoing X-titles and the launch of multiple exciting new series! The devastating events of the Hellfire Gala and the tragic circumstances of FALL OF X calls for the return of the Avengers' Unity Squad in a new run of UNCANNY AVENGERS written by Gerry Duggan and drawn by Javier Garrón! Innocent people and world leaders are dead after simultaneous attacks on the U.S. and Krakoan governments, and that means one thing: it's time for a new squad of Avengers. False flag attacks meant to whip up anti-mutant hysteria are unfolding and hey, some of Steve Rogers' best friends are mutants. Marvel's new unity squad will include Captain America, Rogue, Deadpool, Quicksilver, Psylocke, and Penance. This powerhouse new team must solve the mystery of who the new, murderous Captain Krakoa is — and stop his team of killers from igniting the fires of a new world war."

"Everything we've been working towards in our third act is coming to a head this summer," Duggan told fans in a video message. "The Uncanny Avengers have existed to provide an example of unity between humanity and mutantdom, and they will need to work extra hard at that now as relationships and friendships have frayed in the events of FALL OF X."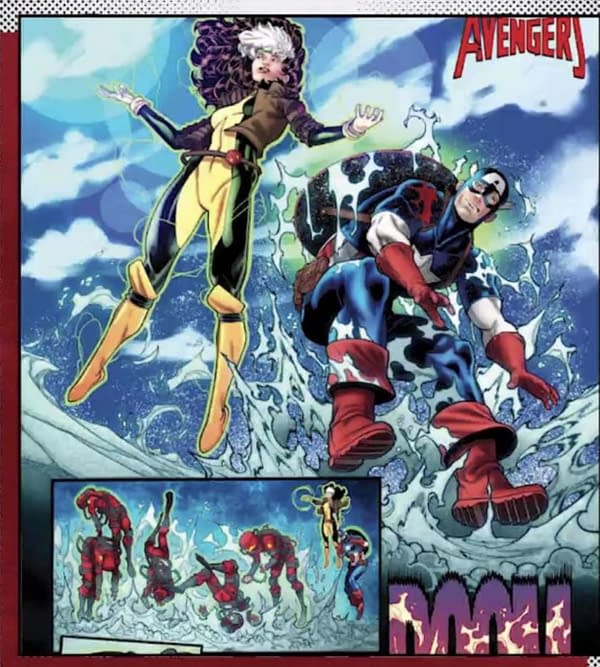 Uncanny Avengers #1 will be joining the mutant and Avengers ranks in August, folks. Well teased before, but now announced properly…
FCBD 2023 AVENGERS X-MEN #1
MARVEL COMICS
DEC220014
(W) Gerry Duggan, Jonathan Hickman (A) Joshua Cassara, Various (CA) Garron, Javier
This issue features a pair of all-new stories that set the stage for the next evolution in mutant adventures, FALL OF X, and introduces an uncanny new lineup for a new team book launching next year. PLUS: a preview of Jonathan Hickman and Valerio Schiti's upcoming mystery project.
Exclusive Original Material
Rating: Teen
UNCANNY AVENGERS #1
Written by GERRY DUGGAN
Art and Cover by JAVIER GARRÓN
Cover by JAVIER GARRÓN
On Sale 8/16
The Marvel Unlimited Live Virtual Event took place earlier tonight to "spotlight the history and creative legacy of Marvel's mutants, from their beginnings as the Original Five to their present era in the Krakoan Age."
Access was granted to those with a Marvel Unlimited Annual or Annual Plus subscription and featured comic book creators Chris Claremont, Walter and Louise Simonson, Rob Liefeld, Marc Silvestri, Gerry Duggan, Jonathan Hickman and more. And special guests from X-Men: The Animated Series Eric Lewald, Julia Lewald and Marvel Studios' X-Men '97 writer and executive producer Beau DeMayo.