A brand-new weapon in Resident Evil 4 Remake called the Bolt Thrower gives players a unique option when approaching combat should they unlock this modified crossbow. Unlike many other firearms in the game, the Bolt Thrower relies on physical shots rather than packs of ammunition, making it a reliable weapon that doesn't take up much inventory space. Found relatively early into the game, players can use this weapon to add more versatility to their combat against the horrific enemies Leon encounters.
The Bolt Thrower plays very differently through its ammunition type, as it fires objects called bolts at enemies from mid to close ranges. A stark contrast to the rare Magnum ammo seen on guns like the Broken Butterfly in RE4 Remake, these bolts can be picked up after players fire them, even off enemy targets. The ability to recycle ammo becomes extremely useful the further into the story players get, as more and more enemies appear as massive hordes or hard-to-kill bullet sponges.
Where To Get The Bolt Thrower
The crossbow Bolt Thrower shows up as early as Chapter 2 of the story, available for sale with the Merchant the first time players encounter the mysterious figure. Once Leon reclaims their stolen gear, the Merchant is hard to miss from a cutscene introducing their shop.
The Bolt Thrower at first sells for 10,000 Pesetas but goes on sale for less if players wait until Chapter 3 to buy it for 8,000 Pesetas instead.
Finding different treasures or keeping the Pearl Pendant clean in RE4 Remake are great ways for players to get enough money to buy this exciting weapon as soon as possible.
How To Use the Bolt Thrower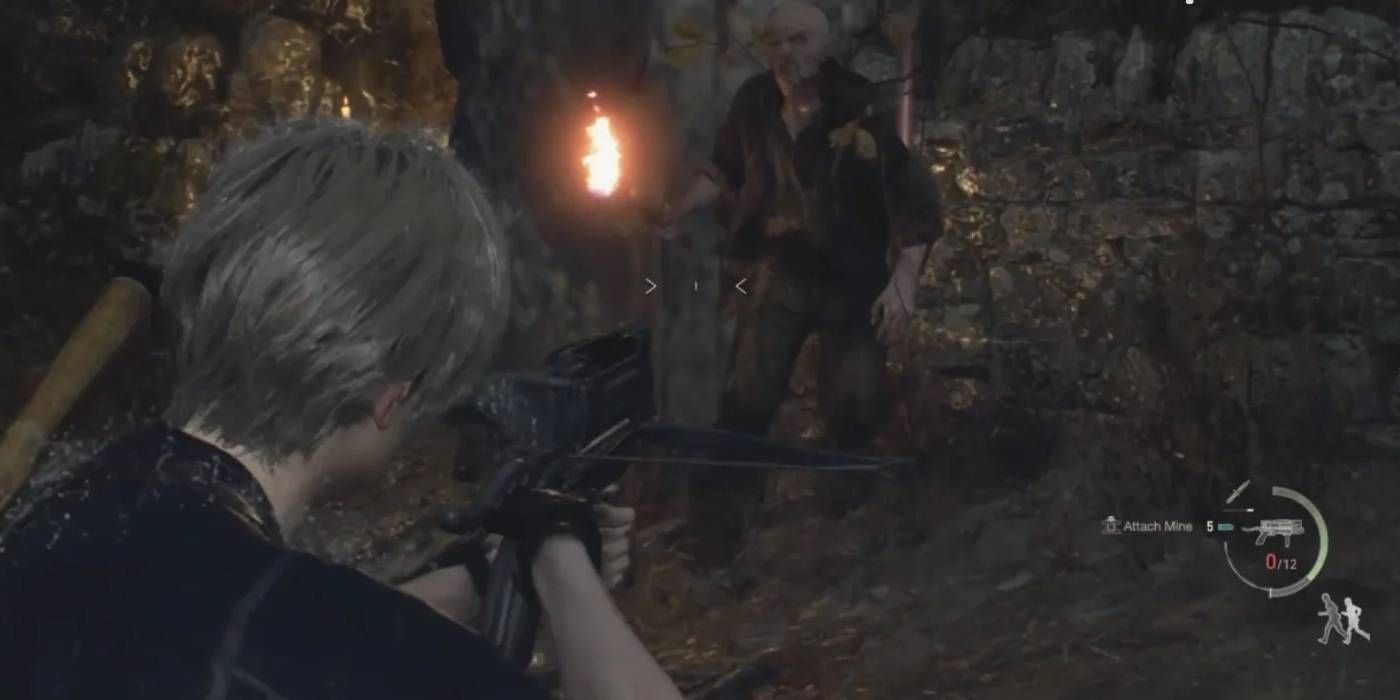 The stats of the Bolt Thrower are not as important as the methods players use it, as this weapon is incredibly quiet and great for stealth. Only taking up a 2×4 space in the inventory, players with the Bolt Thrower can take out a few unsuspecting enemies at all times. While this weapon's damage isn't incredible, players can modify the Bolt Thrower to shoot explosive mines should they upgrade it enough, although this does prevent the bolts from being recovered when used this way.
Players are recommended not to use the Bolt Thrower from long-range, as the dropping arc of each bolt can be drastic. The best way to use this weapon comes from aiming at enemy kneecaps to disable foes before switching to either a knife to finish them off or a gun to handle a larger crowd. No matter how players choose to use the Bolt Thrower in Resident Evil 4 Remake after they get the weapon, it provides a distinct angle to any combat situation that most guns wouldn't provide.
Resident Evil 4 Remake

Franchise:

Resident Evil

Platform:

Microsoft Windows, PlayStation 4, PlayStation 5, Steam, Xbox Series X/S

Released:

2023-03-24

Developer:

Capcom Division 1

Publisher:

Capcom

Genre:

Survival Horror, Action

Engine:

RE Engine

ESRB:

M

Summary:

Resident Evil 4 Remake is a reimagining of the original classic released on the Nintendo GameCube in 2005. A survivor of the Racoon City incident, Leon S. Kennedy, has been conscripted to serve as a member of the President of the United States Secret Service. However, with Umbrella disassembled, a new threat emerges – a cult known as the Los Illuminados, led by Osmund Saddler. Saddler has kidnapped the President's daughter, Ashley Graham, and Leon has been dispatched to her last known location – a remote region deep in the heart of Spain. Carrying a heavy heart over his failure to stop Raccoon city from being wiped off of the face of the Earth, Leon looks to redeem himself by saving Ashley and putting a stop to this new threat. Resident Evil 4 Remake will follow in a similar vein as the Resident Evil 2 & 3 remakes, with overhauled graphics and the evolved third-person action/horror gameplay the series has become known for.

Legendary Edition Available:

Resident Evil 4: Deluxe Edition

Prequel:

Resident Evil 3

Sequel:

Resident Evil 5

Mode:

Single-Player