Why is Wonder Woman's daughter called Trinity? And what is her real full name? Bleeding Cool has a Wonder Woman #800 leak just for you.
---
Tom King and Daniel Sampere are to be the new creators of the ongoing Wonder Woman comic book from DC Comics later this year. Sampere has tweeted the news"I'm very excited to introduce you Wonder Woman's daughter, TRINITY! Making her debut in issue #800. Our short story will take place in the future and will serve as a prelude for our upcoming new series coming out in September! Created by @TomKingTK and me. Colors @tomeu_morey". And Tom King has given us her not-made-up name as well, "Meet Lizzie, daughter of Diana; Trinity, daughter of Wonder Woman."
In recent years, Superman has seen Clark Kent and Lois Lane have a son, Jonathan Kent, the new Superman of Metropolis. Batman has seen Bruce Wayne presented with his son, courtesy of Talia Al Ghul, Damian Wayne, the new Robin. And now, through whatever means, Wonder Woman has a daughter, Trinity.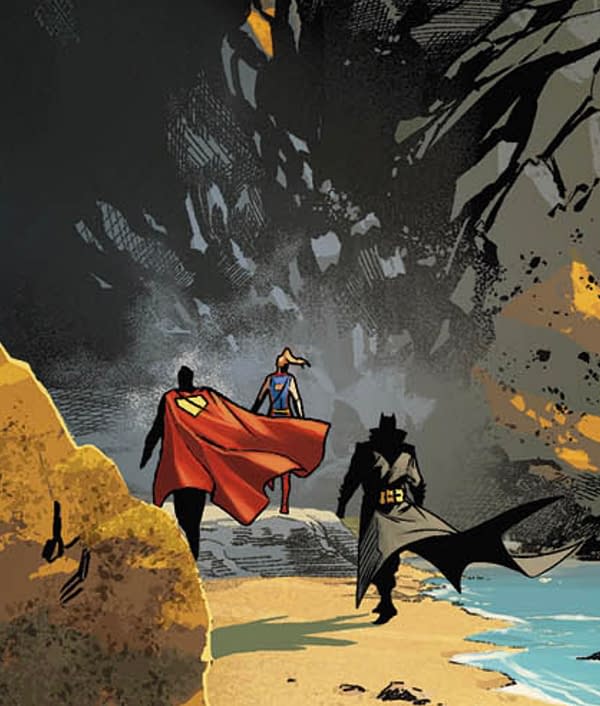 Tom King tweets "Trinity debuts in Wonder Woman #800, in a story set about 20 years in the future. The story of how we get to that future will be told starting in Wonder Woman #1″ and that "I'm showing you pictures from a future story. In Wonder Woman 800, Lizzie is 19 in a story that takes place 20 years from now. So she's significantly younger than Damian and Jon."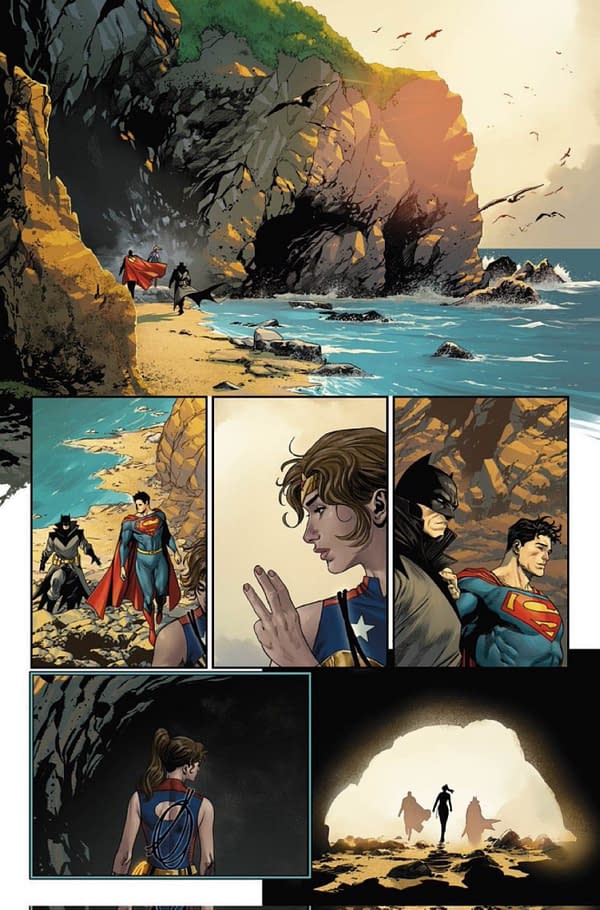 Indeed Bleeding Cool has learned that at one point in their lives, Damian Wayne promised Bruce Wayne that they would look after Trinity. His interpretation of that, wanting to take her to a Killer Croc fight when she was five, was something that Jonathan Kent objected to.
Why is she called Trinity? Well, Bleeding Cool has come across a little Wonder Woman #800 leak. Trinity  is fated to be the first holder of the Three Lassos of Fate. We know the Golden Lasso but there are others. She is also the Champion of the Amazons and, in this future, she is leader of the Justice League. And as for her name?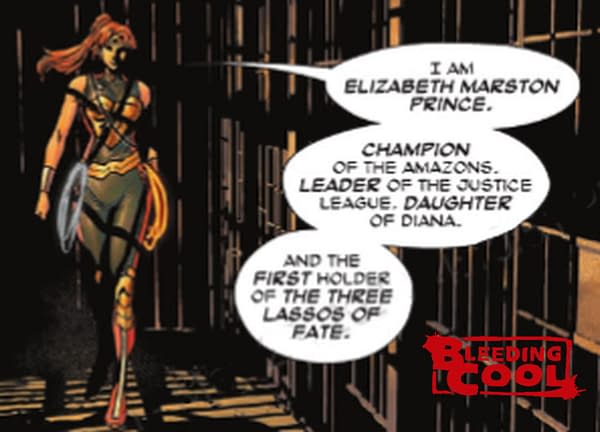 Her friends may call her Lizzie, but her first name is Elizabeth. I have already suggested that might have been as a result of the death of Queen Elizabeth II, and Wonder Woman having spent years living in London. But her full name is Elizabeth Marston Prince. And in that case it's suddenly clearer. Elizabeth Marston was the inspiration for Wonder Woman, wife to creator William Moulton Marston, and classed by many as her co-creator. If Elizabeth Marston was the mother of Wonder Woman, as she is often dubbed, she is also the chosen name for Wonder Woman's daughter.
Wonder Woman #800 is published by DC Comics on the 20th of June.
WONDER WOMAN #800 CVR A YANICK PAQUETTE
(CA) Yanick Paquette
Written by Becky Cloonan, Michael W. Conrad, and Tom King Art by Joelle Jones, Todd Nauck, Daniel Sampere, and others Whatever Happened to the Warrior of Truth? concludes in a landmark 800th issue! Diana's visions become more vivid as she finds herself trapped in the dreams of those around her! As she struggles to escape, her life as Wonder Woman hangs in the balance. When the dust settles, will she still be the Amazons' greatest champion? Find out in this extra-special celebration!
Retail: $5.99 In-Store Date: 6/20/2023
---
---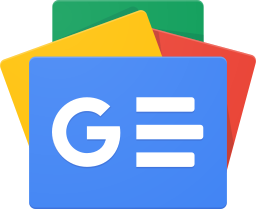 Stay up-to-date and support the site by following Bleeding Cool on Google News today!