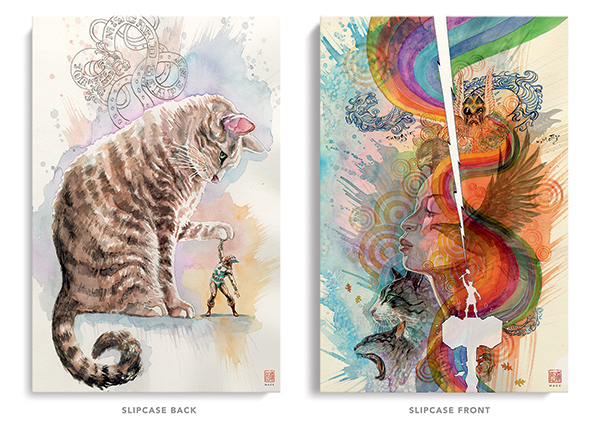 Neil Gaiman's 2017 bestselling book,
Norse Mythology
, has been adapted into an 18-issue comic series spanning three separate hardcover volumes. Now, Dark Horse Books will collect the entire series for the first time into one oversized, deluxe collection!
The Complete Norse Mythology
will include Volumes 1-3 of the comic series, adapted by P. Craig Russell, the Eisner award-winning writer, illustrator, and Hall of Fame Inductee who has adapted Neil Gaiman's
American Gods
,
Only the End of the World Again
,
Coraline
, and others.
Each short story in the series features art by different artists, including: Mike Mignola, P. Craig Russell, Jerry Ordway, David Rubín, Piotr Kowalski, Jill Thompson, Matt Horak, Mark Buckingham, Gabriel Hernandez Walta, Sandy Jarrell, Galen Showman, and Colleen Doran. Dave Stewart and Lovern Kindzierski provide colors, with Galen Showman lettering. This deluxe edition also features cover art by David Mack, a sketchbook section, and a cover gallery.
In Norse Mythology Volume 1, learn about the creation of the Nine Worlds to the epic origin and adventures of Thor, Odin, and Loki.
In Volume 2, explore the origins of poetry—good and bad—in this tale of malicious dwarfs, suspicious giants, and the wise god Kvasir, whose eventual fate leads to the creation of a powerful mead that many will fight and die for.
And in Volume 3, various Norse myths are brought to life, including a wild quest where Thor and Tyr face a multiheaded giantess, fire-breathing sea serpents, and more bizarre mythological creatures; the journey of Odin to the end of the world, and finally we reach the end of the world Ragnarok: the final destiny of the gods.
The Compete Norse Mythology HC (448 pages, 8 x 12.1875") arrives in bookstores November 21, 2023 and into comic shops November 22, 2023. It is now available to pre-order for $124.99 at Amazon, Barnes & Noble, and your local comic shop and bookstore.
Be sure to follow Dark Horse Comics on social media for more news, announcements, and updates!
Praise for Neil Gaiman and P. Craig Russell's Norse Mythology:
"Norse Mythology is as if a classic storybook from your childhood crept up and hid itself on your bookshelf only for it to find you years later."—AIPT Comics
"Neil Gaiman's "Norse Mythology" treads familiar ground but never comes off as trite, and is instead charming, funny, and an altogether cozy read."—Multiversity Comics
"Neil Gaiman's retelling is one not to miss and now that it has taken the form of a comic book, it is even more wonderful to pick up."—Comic Watch
"This is a finely made comic and a worthy gift to gods of Asgard."—Kabooooom!
"There simply is no better way to experience the foundation of Norse Mythology."—DC Comics News
About Neil Gaiman
Neil Gaiman is the New York Times bestselling author and creator of books, graphic novels, short stories, film and television for all ages, including Norse Mythology, Neverwhere, Coraline, The Graveyard Book, The Ocean at the End of the Lane, and The View from the Cheap Seats. His fiction has received many awards and honours, including the Newbery and Carnegie Medals, and the Hugo, Nebula, World Fantasy, and Will Eisner Awards. Gaiman was the writer and showrunner for the mini-series adaptation of Good Omens, based on the book he co-authored with Sir Terry Pratchett, and for which he won the Hugo Award and Ray Bradbury Award for Screenwriting. His novel American Gods has been adapted to a critically acclaimed, Emmy-nominated TV series, and the Netflix adaptation of his comic series The Sandman was released to popular and critical acclaim. In 2017, he became a Goodwill Ambassador for UNHCR, the UN Refugee Agency.
About P. Craig Russell
A graduate of the University of Cincinnati with a degree in painting, P. CRAIG RUSSELL has run the gamut in comics. After establishing a name for himself at Marvel on Killraven and Dr. Strange, he went on to become one of the pioneers in opening new vistas for this underestimated field with, among other works, adaptations of operas by Mozart (The Magic Flute), Strauss (Salome), and Wagner (The Ring of Nibelung). Craig has completed five volumes of comic-book adaptations of the Fairy Tales of Oscar Wilde and has beautifully brought to life characters as diverse as Batman, Conan, Hellboy, The Spirit, Death, and The Sandman. His more recent work includes comic book adaptations of Neil Gaiman's Coraline and The Graveyard Book.