[Warning: Potentially Triggering Content]
Oh no… Oh god no… This is so brutal…
On Thursday, Cassie filed a shocking lawsuit against her famous ex Diddy, claiming he abused her for over a decade. The singer, born Casandra Ventura, said the music mogul would abuse her and then hide her from the public. The suit reads:
"Throughout their relationship Mr. Combs was prone to uncontrollable rage, and frequently beat Ms. Ventura savagely."
He would then, the suit goes on to claim, put his battered GF up in a hotel somewhere nice for a week, sweeping it all under the rug — and she'd come out showing none of the damage:
"After every instance in which he beat Ms. Ventura, Mr. Combs used his money and power to orchestrate extensive efforts to hide the evidence of his abuse, including by hiding Ms. Ventura in hotels for days at a time to let her bruises heal."
But at least one time we have seen Cassie with her face all bloodied and bruised.
Video: Diddy FORCED Cassie To Shave Her Head?! Wild Story Resurfaces After Abuse Allegations!
In the hours since her lawsuit went public, tons of old interviews and stories about Diddy have resurfaced. But this may be the most compelling image we've seen. Cassie posted a photo on her Instagram back in 2014, showing off her face with a huge cut on her forehead and a fat lip.
The caption of the since-deleted post was chipper enough, as she showed off her sunglasses:
"New #raybans on my way home #toomuchfun #Dubai"
But the image… See for yourself.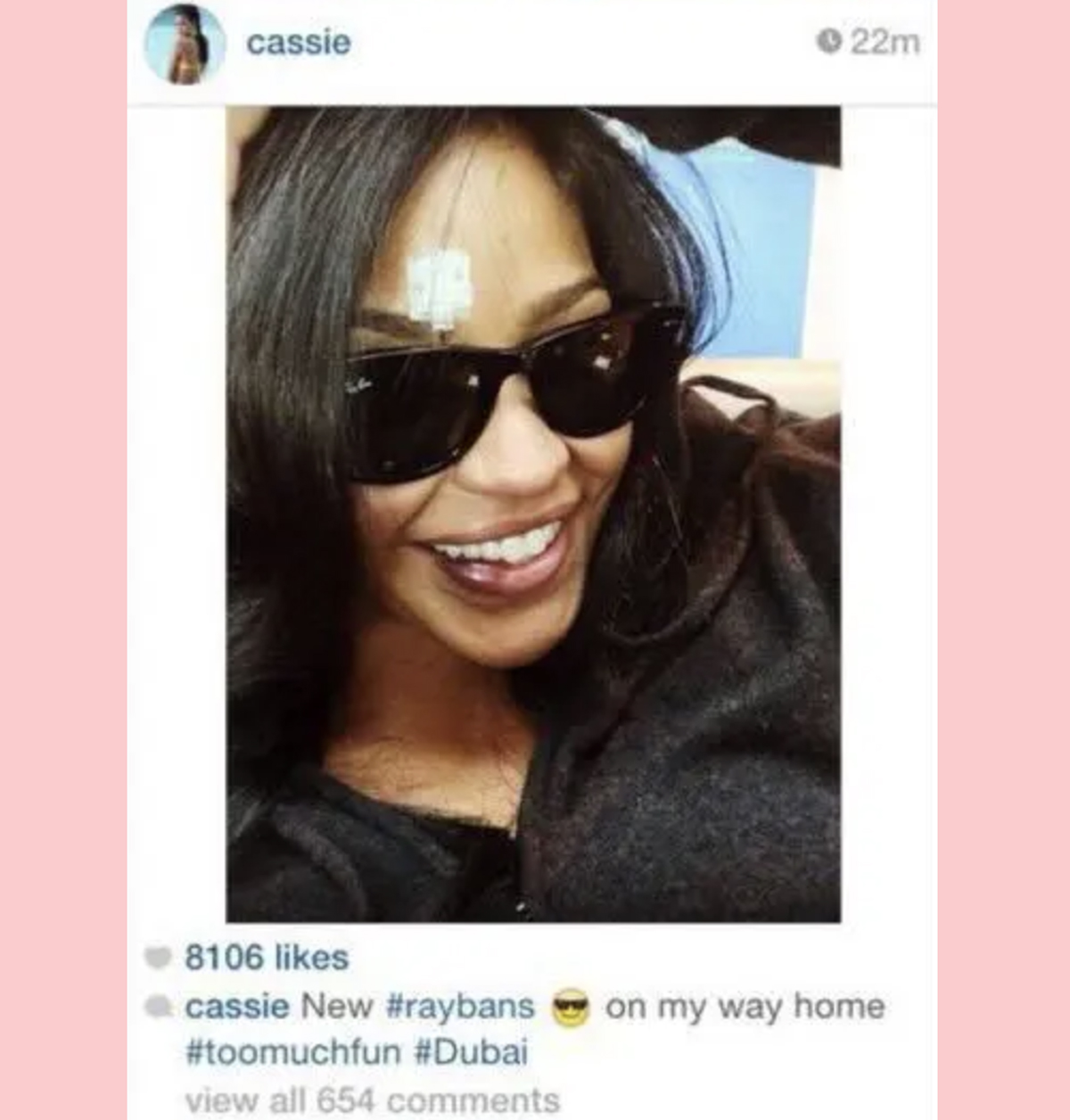 As mentioned, the photo has been long since deleted, apparently pretty quickly after it went up. We can tell it's real because of coverage at the time — but the post itself was gone FAST. Thankfully some fan managed to screengrab it. Because it may end up being evidence…
So why didn't anyone accuse Diddy at the time? Well, looking back, the story going around was that Cassie had gotten herself banged up in an ATV accident while partying in Dubai. But was that just a story? Another way Diddy covered it up? Because too many people saw her??
If so, how interesting that Cassie even posted the pic. If this really was evidence of abuse, and not an ATV crash, this could have been a cry for help. Cassie sending up a flare for someone to see… and no one noticed??
Heartbreaking to think about.
If you or someone you know is experiencing domestic violence, help is available. Consider calling the National Domestic Violence Hotline at 800-799-7233, or text START to 88788, or go to https://www.thehotline.org/. 
[Image via RHS/WENN/Cassie/Instagram.]
Source link