Angelina Jolie and her sons Maddox and Pax made sure to support their sister Zahara by attending her first sorority event after she omitted the "Pitt" from her full name "Zahara Jolie-Pitt", which had fans raising their eyebrows.
The family attended a luncheon following Zahara's Alpha Kappa Alpha sorority probate, which inducted her into the sorority at her university, the historically Black women's liberal arts college, Spelman College.
The famous family, including Maddox, 22, and Pax, 19, took photos with people at the event, seeming just like any other family supporting their own. Siblings Shiloh, 17, Knox, 15, and Vivienne, 15, seemed to not have attended the event.
READ MORE: Taylor Swift postpones Rio de Janeiro show, citing record heat a day after fan dies during concert
Angelina can be seen in one picture with her hands to her face in shock, proud of her daughter. In another she is subtly holding her daughter's hand in a group photo.
The family affair comes soon after Zahara, 18, tellingly dropped the 'Pitt' from her surname during the induction ceremony, seemingly cutting her connection to her adoptive father, actor Brad Pitt.
In a clip posted to Instagram she can be seen standing in front of her fellow Alpha Kappa Alpha Sorority sisters and performing her induction.
Watch the vide above.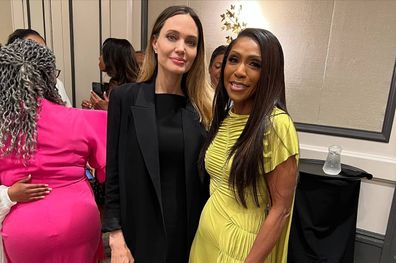 READ MORE: Reason Jerry Seinfeld lashed out at Larry King revealed 14 years later
"My name is Zahara Marley Jolie," the 18 year old says.
"And [I] landed all the way from the Golden State in the city full of angels: Los Angeles, California."
Her induction into the first historically Black sorority is welcomed by cheers and applause as the actress walked away from the centre of the stage.
READ MORE: Record Drew Barrymore has been holding for 41 whole years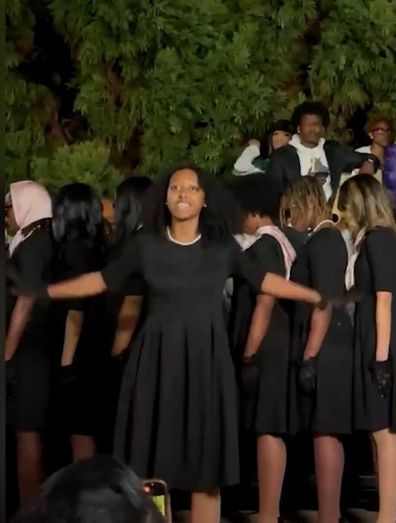 Despite the moment going over quite smoothly in the clip, online users later noted the name exclusion.
"She said her name is Zahara Marley JOLIE," one user commented on the video.
"See she didn't say jolie-pitt though," another wrote.
For a daily dose of 9Honey, subscribe to our newsletter here.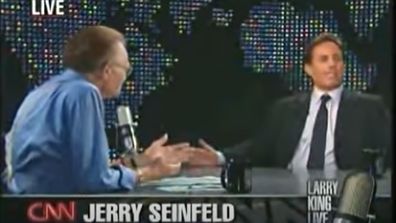 Real reason Jerry Seinfeld lashed out at Larry King
Others pointed out that this could also be because Pitt may not be in Zahara's legal name, having been adopted by Jolie before her relationship with Pitt.
Jolie had adopted Zahara, as well as Maddox when she was technically still single, though Pitt had accompanied her on the trip to Ethiopia to adopt Zahara. He later adopted all of Jolie's adopted children as his own, before they had three more kids – Shiloh and twins Knox and Vivienne.
Jolie, 48, and Pitt, 59, wed in 2014 and split seven years ago in 2019. The exes were awarded joint custody of their six children after a lengthy custody battle.